miR-92a:A molecular CRC specific diagnostic marker

MiR-92a (microRNA-92a), a small non-coding RNA, is a newly discovered biomarker with high sensitivity and specificity to CRC. It promotes cell proliferation and migration of colorectal cancer cells by targeting PTEN, KLF4 and downstream p21 genes. Multiple studies found characteristically increased miR-92a level in patients' stool specimen with CRC or CRC lesions. REColonTM works through detecting miR-92a level directly from CRC cells shed from lining of human colon and eventually excreted in the stool.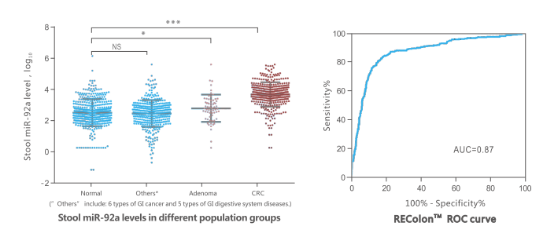 A comparative analysis is made between colonoscopy and REColonTM tests of in total 1,241 CRC and normal cases, REColonTM achieves 71.76% sensitivity and 90.07% specificity for CRC diagnosis.
71.76% Sensitivity,90.23% Specificity
REColonTM

Colonoscopy

Total

Positive

Negative

Positive

244

88

332

Negative

96

813

909

Total

340

901

1,241
Ø REColonTM Diagnostic Accuracy : 84.96%(1,057/1,241)
Ø Sensitivity:71.76% (244/340)
Ø Specificity:90.23% (813/901)
Non-specificity Reaction Evaluation
Non-CRC Group

miR-92 neg(-)

miR-92a pos(+)

Specificity

Non-CRC group

miR-92 neg(-)

miR-92a pos(+)

Specificity

Pancreatic Cancer

(20 cases)

20

0

100%

Enteritis

(45 cases)

42

3

93.33%

Bile Duct Cancer

(20 cases)

19

1

95.00%

Colitis

(29 cases)

27

2

93.10%

Liver Cancer

(20 cases)

19

1

95.00%

Peptic ulcer

(24 cases)

23

1

95.83%

Oral Cancer

(20 cases)

19

1

95.00%

Appendicitis

(20 cases)

19

1

95.00%

Esophageal Cancer

(20 cases)

20

0

100%

Gastritis

(20例)

19

1

95.00%

Gastric Cancer

(25 cases)

23

2

92.00%