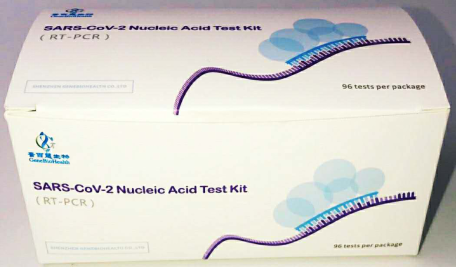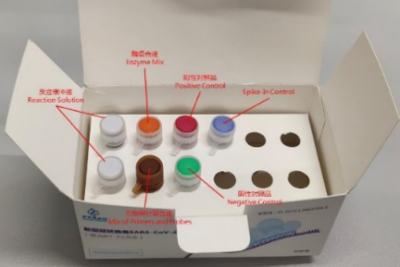 Introduction
GBH's SARS-COV-2 Nucleic Acid Test Kit (RT-PCR) is a qualitative in vitro nucleic acid amplification assay used to detect SARS-CoV-2 using reverse transcription PCR from nasopharyngeal swabs, bronchoalveolar lavage fluids (BALF) and sputa samples. The test kit is widely used for rapid detection and outbreak control of SARS-COV-2(COVID-19). With its high specificity, high sensitivity and rapid response, it can effectively assist the diagnosis of disease(novel coronavirus pneumonia) and improve the diagnosis efficiency.
• The kit can be used for the diagnoses of patients and close contacts with symptoms of COVID-19.
• Dual test targets (ORF-1ab and N) will rise the test efficiency and lower the error rate.
• Sample Type: nasopharyngeal swabs, bronchoalveolar lavage fluids (BALF), sputa
• 48 samples per package or 96 samples per package
• CE certified and approved for exportation

Product Features
• Sensitivity: the sensitivity of SARS-COV-2 can reach the level of 300 copies/ml
• Precision: small variations of inter and intra batches and reliable reproducibility of test results
• Anti-interference: Common exogenous medicines and possible endogenous materials inside the samples will not interfere the test results.
• Specificity: The test kit was designed according to the conserved sequences of SARS-CoV-2, which lead to high test rate and no cross reaction by other pathogens in the same location or with the same symptoms.
Storage
• PCR reagents: under -20℃ and avoiding repetitive freeze-thawing
• Nucleic acid extract reagents: enclosed environment with temperature 2~8℃.
Reagents from different batches are not interchangeable. Valid within 12 months.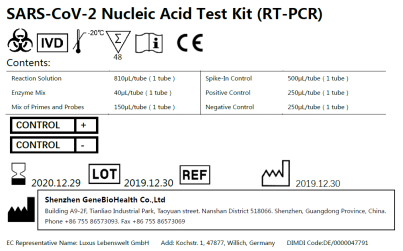 Important!
See more details in the handbook.SARS-CoV-2 Nucleic Acid Test Kit Handbook_mod_Mar 2020_nL.docx
Use only the latest version of the Instructions for Use.
The Instructions for Use shall be read carefully prior to use and followed.
Copyright GBH 2020. This website contains information on products which is targeted to a wide range of audiences and could contain product details or information otherwise not accessible or valid in your country. Please be aware that we do not take any responsibility for accessing such information which may not comply with any legal process, regulation, registration or usage in the country of your origin. Note, GBH's genetic testing products have not been cleared or approved by the US FDA and are not available in the USA.